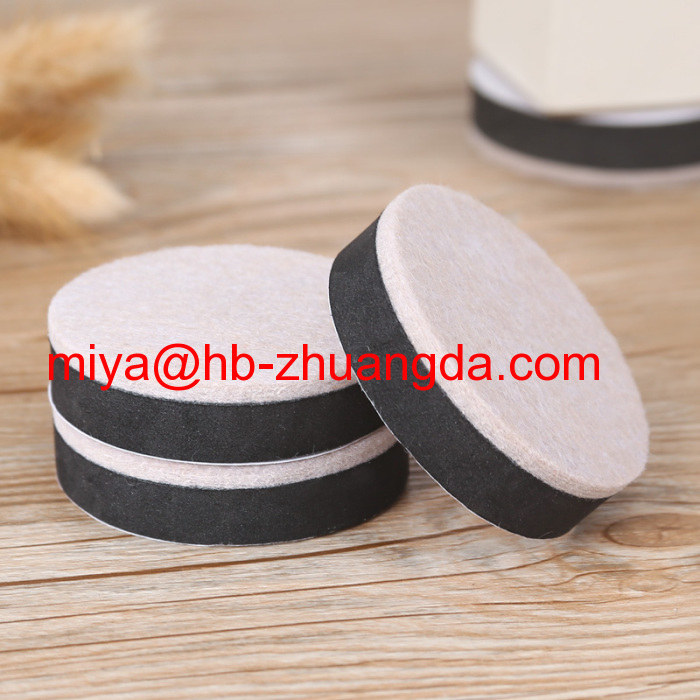 Features
●Delicacy and and beautiful.The wool felt furniture anti-skid footpad is pass the past ugly paper or other material to protect the furniture and floor.
●Good hand feeling.The wool felt wool felt furniture anti-skid footpad are touched well.
●Firm. The fiber barbs are interlocked together tightly and will not unravel.
●Abrasion resistance. The pressed wool felt has a strong structure which is abrasion resistance.
●Highly absorbent. The pressed wool felt has outstanding water absorption.
●Fire-retardant. Wool felt has naturally fire retardant, which enable the long service life and can be used in the flammable areas.
●Natural and hypo-allergenic. All of the material of wool felt are natural and without any chemical or other harmful element in it.
●Low noise. Presses wool felt used in the furniture can reduce noise and protect floor.
●Customized. The thickness, colors and sizes of pressed wool felt can be customized according to the customers' requirements.
Application
Wool felt sheets are typically used in technical applications, such as industrial & medical applications where maximum durability and heavy-duty shock absorption is required.

Some speific applications,as follow:
●Furniture anti-skid footpad.
●The color,size,shape and other measures are made as customer's requirements.