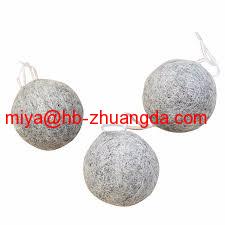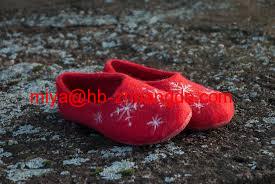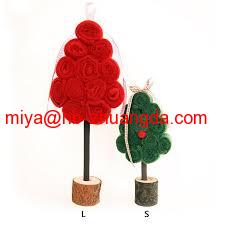 Features
●Delicacy and and beautiful.The wool felt handicraft products are attractive for no matter for who is a dult or kid via its special feature delicacy and beautiful.

●Good hand feeling.The wool felt handicraft products are touched well and very soft for human's skin.
●Firm. The fiber barbs are interlocked together tightly and will not unravel.
●Abrasion resistance. The pressed wool felt has a strong structure which is abrasion resistance.
●Highly absorbent. The pressed wool felt has outstanding water absorption.
●Fire-retardant. Wool felt has naturally fire retardant, which enable the long service life and can be used in the flammable areas.
●Natural and hypo-allergenic. All of the material of wool felt are natural and without any chemical or other harmful element in it.
●Low noise. Presses wool felt used in the furniture can reduce noise and protect floor.
●Customized. The thickness, colors and sizes of pressed wool felt can be customized according to the customers' requirements.
Application
Wool felt Christmas are typically used in celebrating for the special Day and all kinds of style hats bring more happiness for atmosphere.
Company
Hebei ZhuangDa Import and Export Trading Co., Ltd. is one of the excellent enterprises in the felt industry in China. China Textile Industry Association awarded: reliable quality products.all products of the company have reached a very high level at home and abroad.

At present, in the domestic and international industry, no matter in scale, equipment, output, performance, innovation and other indicators are higher than the national testing standards! The introduction of Germany's advanced production equipment and excellent technical management personnel provides advanced technical support for the company's leapfrog development, with advanced chemical and physical laboratories and complete means of quality inspection. The products are supported by strict and scientific management, with the aim of honesty, enterprising and scientific innovation. Customers at home and abroad are welcome to visit and guide them at any time. Create a better tomorrow! Delivery speed is fast, timely distribution is our consistent purpose, users want to think, urgent users need, at any time welcome friends from all walks of life to visit, exchange guidance.